Empowering Women Farmers through Participatory Research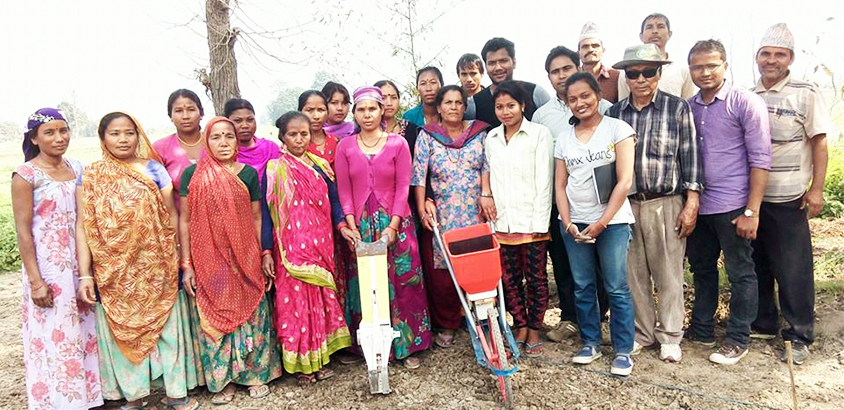 CSISA has collaborated with a women farmers' group in Bardiya district to collectively evaluate improved rice and lentil varieties and better bet agronomic practices. These trials have helped bring CSISA researchers closer to farmers' needs and have led to increased adoption of new technologies by women farmers.
Loktantrik Mahila Krishak Samuha (Democratic Women Farmer Group) was formed in 2011 in the village of Neulapur in Bardiya district of Nepal to economically support poor women members and to improve their skills in new agricultural technologies. The group, with 33 active members, now has a savings fund of NRs 250,000 (US$ 2,500), and is able to make low-interest loans to members. Since 2013, CSISA-NP has been working with this group on research activities, trainings and demonstrations.
Farmers' Choice
Group members participated in CSISA's evaluation of rice varieties, as well as trainings and demonstrations on rice production technologies and crop establishment methods. Among rice hybrids, the group members were able to choose from varieties such as DY 18, DY 69, Arieja and Prithivi due to their high yielding potential and fine grain quality. The women group members expressed a preference for fine grain rice varieties for home consumption and coarse grain varieties for selling in the market.
In the winter of 2013 and 2014, a large number of farmers from the group also participated in adaptive research trials on lentil varietal selection and different agronomic practices. The group preferred Khajura 2 (released), ILL 7723 (enriched with iron and zinc) and Black Masuro, but did not express a preference for the other varieties produced. The average yield of improved varieties of lentil is 1,200 kg per hectare in farmers' fields, which is nearly 50 percent higher than the commonly used variety.  The group members also earned additional income by selling lentil seeds, which were produced from these new varieties.
CSISA also introduced the group members to direct seeded rice (DSR) technologies, using both four-wheel tractor seed drills and Chinese two-wheel tractor seed drills. DSR, a technology that can provide significant cost savings to smallholder farmers, can be particularly attractive when labor availability is constrained as it eliminates the need for nursery bed preparation, puddling and transplanting of seedlings into the main field. DSR also reduces water requirements, while still providing similar grain yields achieved with transplanted puddled rice.