Transforming Fallows: Line Sowing Facilitates Cropping Diversification in Odisha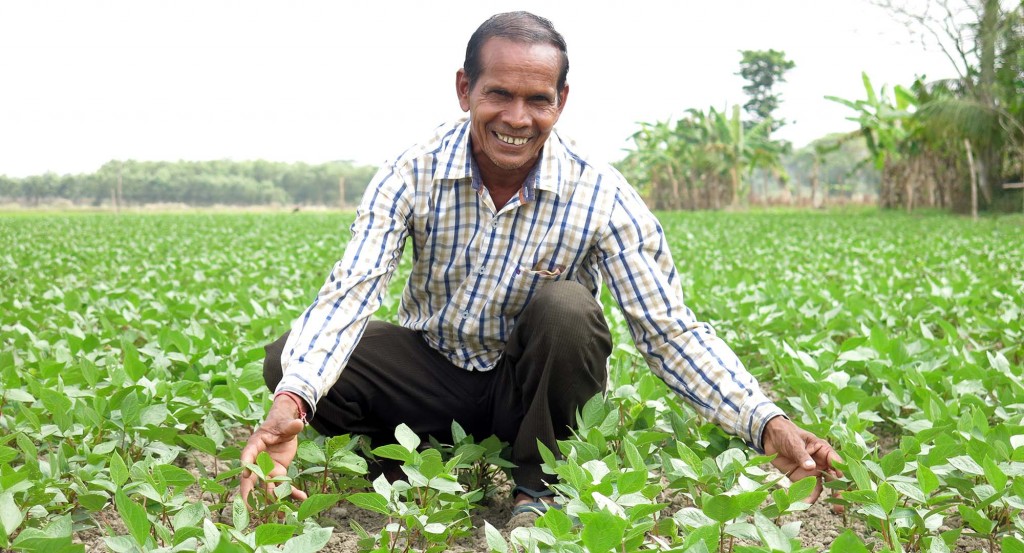 Rice is the major crop for most farmers in Odisha during the kharif (monsoon) season. However, due to a lack of adequate irrigation facilities, nearly 84 percent of the arable farmland (4.7 million hectares) remains fallow in the ensuing rabi (winter) season.
According to Vivek Kumar, Specialist (Agriculture Research and Development), IRRI, "As much as 95 percent of all farmland in Bhadrak District remains fallow in the rabi season. Some parts of the district are serviceable by canal irrigation, but the canals have been dry for nearly 6 years."
Fallows present a considerable opportunity for cropping system intensification and diversification in Odisha. CSISA, in collaboration with the Department of Agriculture, Government of Odisha, is promoting mechanized line sowing of short duration crops such as pulses (green gram and black gram) and oilseeds (sunflower). Sowing with a seed drill allows for residual soil moisture and nutrients to be utilized for the rabi crop and consequently helps optimize the use of available land resources. This year alone, the machine has helped convert 22 and 20 hectares of previously fallow land in Nimapara and Gop blocks of Puri District, respectively.
Another advantage of the seed drill is that it can help reduce the cost of cultivation, making a rabi crop more viable for farmers. "The government introduced a buyback scheme for sunflower in one block of Bhadrak a few years ago to motivate farmers, but the cost of cultivation was still too high for it to be worthwhile," informs Kumar. Sowing sunflower by dibbling requires 12-15 laborers and a similar number for earthing up and weeding.
He adds, "In January this year, with technical assistance from CSISA, farmers in Bhadrak used a seed drill to plant sunflower, the first time this has ever been done in Odisha. Sowing with the seed drill eliminated the labor requirement for dibbling. Since it sows the crop in lines with adequate spacing, it also made it possible to use a power weeder, which is both cheap and efficient."
"By using the seed drill for planting sunflower on 4 hectares, I've saved more than US$ 150 in labor costs. What would've taken me 20 days, I could complete in just 2 days," says farmer Pradeep Kumar Behera from Palikri Village. Behera also used a power weeder for weeding and earthing up, which took just 1 day instead of 4 and cost only a fraction of the manual alternative.
In the case of pulses, while the establishment costs with a seed drill remain comparable, its yields are much higher than that of conventional farming.
Traditionally, farmers growing green gram and black gram would hand broadcast the seeds and till their fields before and after sowing. "The conventional method only yielded 0.27-0.54 tons per hectare of green gram, which I would then sell for US$ 682 per ton," shares Lingaraj Ratha from Srikanthapur Village in Puri district, who owns 0.80 hectare of land.
At a mass crop cutting event organized by CSISA in Puri District this month, farmers who used a seed drill for sowing green gram with basal application of DAP recorded yields of  up to 1.4 tons per hectare using the variety TARM 1. Farmer Ganesh Kandi, from Alasankha Village, who tried line sowing of green gram on his land for the first time says, "If my crop is good then I'll grow green gram with the seed drill every year during rabi season."
This article is authored by Ashwamegh Banerjee, Assistant Communications Specialist, CIMMYT. With additional inputs from Narayan Banik, Specialist Agricultural Research and Development, IRRI and Anurag Ajay, Assistant Research Associate, CIMMYT.
Tags: Green gram, Mung, Rabi fallows, Seed Drill, Sunflower