Spreading Innovation: New Partnerships Drive Change in Odisha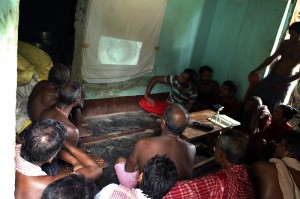 The gap between research and the application of new technologies or management practices on farmers' fields often results because farmers do not receive timely information about emerging research outputs, technologies or improved practices. Innovative new methods of linking research, products, practices and farming communities must be explored and developed.
Sajit Kumar Mohanty, a farmer from Kansapal village in Mayurbhanj district, Odisha, used a traditional method of rice planting – manually uprooting and transplanting rice seedlings. He was introduced to the benefits of mechanical rice transplanting by his local Krishi Vigyan Kendra (farm science center, the local agricultural extension hub) but he wasn't convinced. "I found the technology useful but nobody really knew how to properly prepare the mat nursery or operate the machine," said Mohanty. This sentiment is common among other smallholder farmers in his village, who often require more hands-on support on using a new technology.
More than 83 percent of the total farming population in Odisha is comprised of smallholder and marginal farmers, who have limited resources and rely mostly on the state for access to agricultural information. Presently, farmers like Mohanty receive information primarily by two means: Krishi Vigyan Kendra (KVK), which is aligned with the Odisha University of Agriculture and Technology (OUAT), and Department of Agriculture (DOA), Government of Odisha. Both KVK and DOA work directly with individual farmers to provide field-level technical inputs, create awareness about improved technologies and provide information on entitlements under government programs.
Old Meets New
"The Odisha state government and OUAT recognized the need to strengthen their capacity to transfer suitable technologies to small-scale farmers in ways that were faster, more efficient and more timely," said Sudhir Yadav, IRRI Irrigated Systems Agronomist and the CSISA Odisha Hub Manager. "The innovative use of ICT tools such as the use of video for outreach can be part of the solution to strengthen the existing system."
It is with this vision that Cereal Systems Initiative for South Asia (CSISA) collaborated with Digital Green (DG), the DOA, Government of Odisha, KVKs and OUAT for a pilot project to integrate ICT based video-led information dissemination models with the current state system.
How the pilot works: Digital Green trains and builds the skills of the state agents to shoot and create videos with farmers on improved farming practices and then screens those videos to small groups of farmers, using small-sized, low-cost, battery-run pico projectors. CSISA provides its technical inputs in video topic selection, content planning and story boarding. During the video screening, state agents keep track of the questions asked and have follow-up meetings with the farmers to check on the adoption.
The Digital Green system of information dissemination benefits from the trust that emerges when they see their fellow villagers demonstrating new technologies in their language and in their village, and from the group setting that allows information to reach multiple people using a relatively low level of resources.
"We aim at both increasing the participation of the community into extension and making a two-way flow between research and extension," said Rikin Gandhi, CEO, Digital Green, presenting at the Borlaug 100 event organized by CIMMYT, reaffirming Digital Green's mission to establish an exchange between research and extension leveraging technology.
Implemented in 20 villages of Puri district in Odisha, this CSISA–DG initiative has begun producing videos on 10 technical themes based on the needs of the local farming community. The topics included the demonstration of new paddy, post-harvest and livestock management technologies and highlighting relevant successes by local farmers. So far, six videos in Odiya have been produced, featuring CSISA-promoted technologies. The videos were shown 91 times through group screenings and nearly 500 farmers in Puri district have attended at least one of the video screenings. "Each video requires good planning, a good script and technical understanding of the subject," Yadav said. Synergy between partners is therefore very important, he added.
Local Farmer is the Star
These videos are generating interest among farmers to learn about and adopt new technologies and management practices. The video on the benefits of chopped straw as fodder in dairy management has helped farmers to enhance milk production, commented Suresh Parida, a farmer from one of the pilot villages. Farmers have also found it easier to identify pests and diseases in their crop after seeing the images in the video of pest and disease management in paddy.
"As the actors in the video are local farmers from the local area, it generates trust among the viewers to adopt a demonstrated practice," said Avinash Upadhaya, Regional Manager of Digital Green for Odisha at a recent participatory stakeholders workshop in Puri.
Farmers, mediators (KVK staff) and project co-ordination staff (including from DOA, CSISA and Digital Green) came together to discuss the changes that the ICT model has brought and the challenges in integrating the ICT model with the traditional training method.
Talking about the advantages of the DG approach, Ashok Lakra, the village agricultural worker of a pilot village highlighted, "At a demonstration, we might miss some important information but these videos deliver the entire package and cover all the points." One of the suggestions from the meeting was to distribute leaflets about the technique to the farmers at the end of the video screening for future reference.
"The best language that the farmer understands is the language of other farmers. This works as a good communication model to help in creating awareness and dissemination of improved technologies," said Yadav.
The article is authored by Anuradha Dhar, Communication Specialist, Cereal Systems Initiative for South Asia.
Tags: Digital Green, Extension, Odisha