Sales Boost Seed Sector Growth in Nepal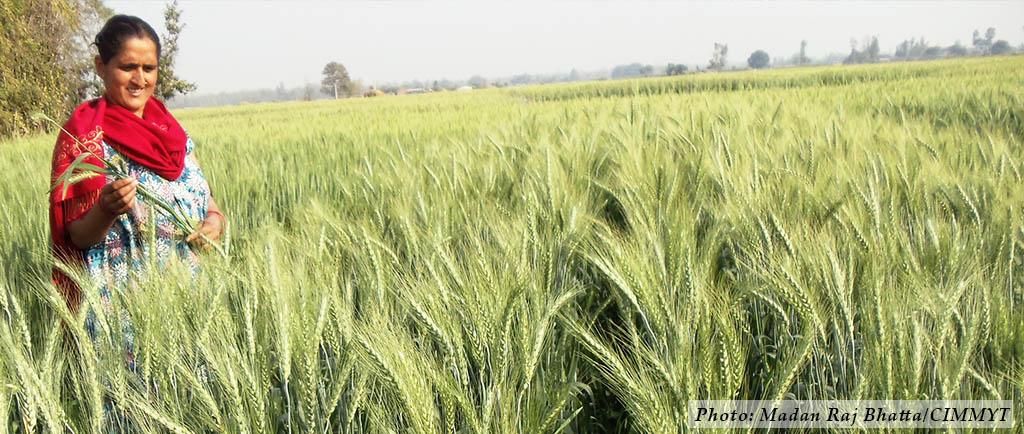 Many Nepalese seed companies are showing signs of significant growth, particularly with an increase in wheat seed sales over the past few years. Three companies, New Shreeram, GATE and Unique, have increased their volumes of wheat seed sales by almost 62% on average over the period of 2014-16. This growth is notable in Nepal's current cereal seed industry, which is at a relatively nascent stage, composed primarily of small- to medium-scale enterprises that often lack business plans, have relatively low operating capital, and have limited processing and storage facilities. These companies produce truthfully labelled seeds of open-pollinated crop varieties, which are then released and registered by the National Seed Board (NSB).
Since 2014, the Cereal Systems Initiative for South Asia (CSISA), led by the International Maize and Wheat Improvement Center (CIMMYT), has supported and mentored nearly a dozen Nepalese seed companies to increase their professionalism, organization and product range and quality, and to improve their marketing strategy and sales. With strategic business development support, these enterprises have shown increased business confidence resulting in higher sales and more investors.
Under this initiative, CSISA selected 10 seed companies that were mainly engaged in wheat seed sales to receive strategic guidance on issues such as improved methods for sourcing, producing, processing, storing, and marketing seeds. Seed companies were mentored through a variety of networking and interaction meetings, structured workshops on developing or improving business plans, theory of change workshops, and an exposure visit to successful Indian seed companies and their industry associations. CSISA also undertook additional, complementary activities such as jointly implemented product demonstrations within high-potential market domains, provided advice on how to improve branding and marketing strategies, and conducted technological training on how to undertake maintenance breeding in order to preserve the quality of varietal lines over time.
Follow-up Funding
Five companies have been able to leverage support provided in part by CSISA and secure financial resources of up to US$ 200,000 per company from development projects such as Improved Seed for Farmers, funded by International Fund for Agricultural Development, and Raising Income of Small and Medium Farmers Project, funded by Asian Development Bank. Both of these projects are implemented by the Ministry of Agricultural Development (MoAD).
These funds have allowed the seed companies to expand their facilities to include seed storage buildings, processing plants and laboratories. Joint demonstrations and agronomic performance data provided by CSISA have helped companies increase their varietal diversity through the inclusion of newly released varieties and iron- and zinc-rich varieties in their product lines. Some companies have introduced innovative incentives for their producers, such as the payment of seed transportation costs from the farmers' fields to the company stores.
Replacing Old Varieties
Nepal's cereal seed industry as a whole has become more structured over the past few years. The Seed Entrepreneurs' Association of Nepal (SEAN), the seed companies' umbrella organization, has developed its own strategic plan, increased its membership from 600 in 2014 to 1,000 in 2016, formed three regional chapters, and contributed a unified voice to discussions around agricultural policies of interest to the seed industry.
For example, SEAN spoke out against seed subsidies for old crop varieties, and as a result, MoAD revoked the subsidy on NL 297 – a 33-year-old wheat variety. Seed production area of this variety has since reduced by 50-70 percent, and some companies have stopped production of NL 297 altogether. Companies have replaced this production with new wheat lines such as BL 4341, which has shown great promise in on-station and on-farm trials carried out by public and private sector organizations. BL 4341 is currently undergoing registration by NSB.
The combination of these various innovations and investments have resulted in an increase in volume of wheat seed sold (see figure 1) and supported these seed companies to reach marginal areas of Nepal through networks of development projects and private sector traders.
For example, during the 2016–17 wheat season, five new wheat varieties were demonstrated on 150 farmers' fields across 10 hilly districts of Nepal through partnerships between seed companies, District Agriculture Development Offices and development projects. New contractual agreements have been signed between seed companies and informal groups and cooperatives for the production of seed. As a priority in the Agricultural Development Strategy (2015-2025), these initiatives will help promote inclusive growth and an effective seed sector in Nepal.
This article is authored by Narayan Prasad Khanal, Innovation Manager-CSISA, CIMMYT-Nepal.
Tags: Agricultural Development Strategy, National Seed Board, Varieties