KVK-CSISA Network Annual Workshop 2022
On 23 September, Krishi Vigyan Kendra (KVK) and the Cereal Systems Initiative for South Asia (CSISA) network hosted their annual meeting for 2022. The meeting organized at the NAAS complex, New Delhi was attended by officials representing over sixty-six KVKs, eleven Agricultural Technology Application Research Institutes (ATARIs), ten Indian Council of Agricultural Research (ICAR), and associated organizations from across the country, including over thirty CSISA colleagues. Some of KVK colleagues also joined virtually from their hubs.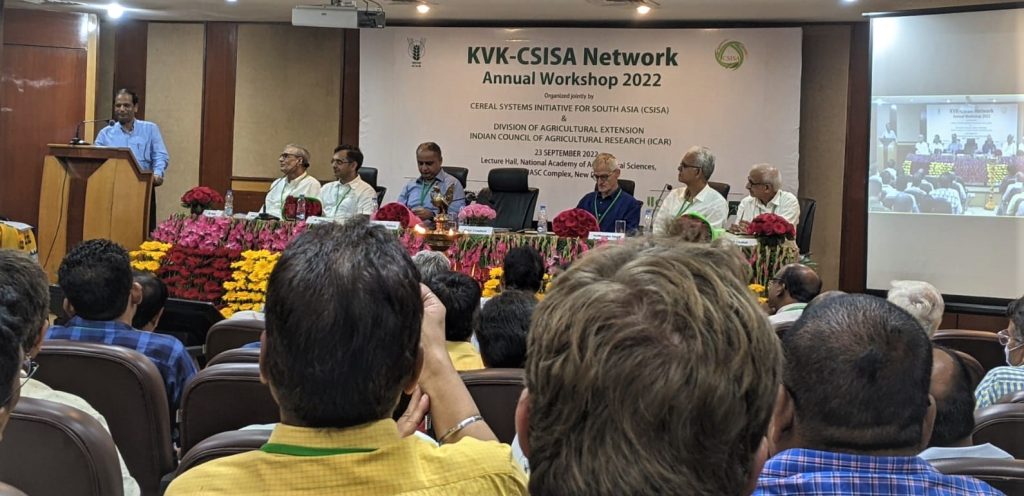 Dr. Himanshu Pathak – Secretary, Director Agricultural Research and Extension (DARE) & Director General (DG) of ICAR, was the Chief Guest. Dr Pathak, in his address, recognized the role of the CSISA-KVK network in helping transform agricultural extension through innovative research, science, and technology interventions. He was joined by Dr A.K. Singh, DDG (Agri. Extension), ICAR, in appreciating the efforts of the CSISA-KVK network in expanding the influence and impact of agri. extension division in the region. The workshop took place in two sessions.
The first half, chaired by Dr Himanshu Pathak, focused on understanding the ongoing initiatives under the CSISA project and expectations in the future from the CSISA-KVK network. The second half, chaired by Dr A.K. Singh and Dr Sudhanshu Singh with Dr R.K, Malik, and Dr Peter Craufurd, was dedicated to the Monitoring, Evaluation & Learning (MEL) discussions – Pulses Survey and Oil seeds and future LDS implementations.
Launching the workshop and welcoming all participants, Dr R.K. Malik, senior agronomist and CSISA India Country Coordinator, spoke briefly on the accomplishments of the CSISA-KVK network over the years and the partnership ahead in making the project transformative. "Our work has been evidence-driven, innovative, practical, and inclusive, and as we go forward, we are building approaches, partnerships, and technologies that bridge the gap between what we think and aspire and what farmers think and aspire to and what farmers need and accept to sustain their livelihoods."
In his address on behalf of CSISA, Project leader (India) Dr Peter Craufurd reflected on CSISA's evolution since its launch in 2009. Explaining how far we have come from CSISA Phases I and II "to building transformational approaches in Phase III and today in Phase IV, the focus on how agronomic research and extension are implemented and embedded in decision-making and policy processes." From the project studies, Dr Crufurd also shared the long-term validated data sets on how the optimization of cropping systems can help manage heat or drought stresses in rice-wheat cropping systems.
"Agricultural extension methodologies are changing, and the CSISA-KVK is one of the testimonies of that change. I extend my compliments and commendation to everyone associated with CSISA", declared DG Dr Pathak in his inspiring address to the participants.
On the increasing expectations of the government and farmers from Indian agriculture research, Dr Pathak emphasized that more is expected from successful projects like CSISA. He shared the view of the Government in supporting agricultural extension with new technology and methodologies, including climate-resilient technologies to promote sustainable development. Dr Pathak also suggested that participants consider mutually inclusive "indigenous/traditional knowledge and newer technologies integrated into a new model for agriculture development to solve today's and tomorrow's problems." He also emphasized the importance of a sound database, saying that "data is the key and will remain key in the time to come" for transforming agriculture.
In his presentation, Dr A.K. Singh, DDG (Agri. Extension), ICAR, highlighted the critical role played by data gathered through Monitoring, Evaluation and Learning (MEL) like the Landscape Diagnostic Survey by CSISA-KVK and shared significant figures reflected in the rice and wheat cropping practices of farmers. Dr. Singh also stressed the importance of convergence in extension and that "CSISA with DARE-ICAR has strengthened state and district-level partnerships between various public and private partners by creating convergence platforms (CP) to improve agri-food systems." Dr. AK. Singh further informed about the new the MEL unit proposed in the EFC of ICAR that will provide researchers feedback, add value, accelerate the adoption of best new recommendations and improve the innovation process.
Through a recorded presentation, Dr. Bernard Vanlauwe from the International Institute of Tropical Agriculture (IITA) introduced the participants to Excellence in Agronomy (EiA), a CGIAR (Consortium of International Agriculture Research Centers) global initiative. The EiA initiative aims to achieve agronomic gain for millions of smallholder farmers in the global south, including South Asia, by delivering large-scale data-driven agronomy solutions. The EiA regional program is being led by CSISA 4.0. The work plan for the region and objectives under CSISA was further elucidated by Dr Virender Kumar (IRRI), EiA regional lead for South Asia.
In closing the workshop's first half on expectations and the road ahead for CSISA-KVK, Dr V.P Chahal from ICAR, in his vote of thanks, expressed appreciation for everyone's participation and leadership of the ICAR-KVK and CSISA in making the project a success and giving important direction for Indian agriculture extension.
The technical session in the second half dedicated to the MEL discussion was chaired by Dr A.K. Singh, with Dr Sudhanshu Singh as co-chair. The deliberations in this session focused on Pulses Survey (including Oil seeds) and future LDS implementations jointly by CSISA and KVKs.
(You can access all the presentations made at the meeting here.)