New Infographics Illustrate Impact of Wheat Blast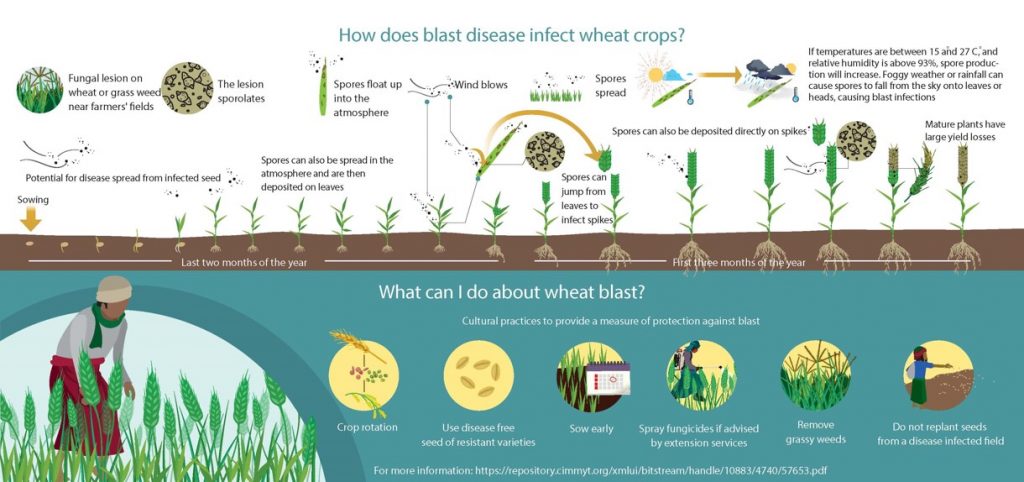 Wheat blast is a fast-acting and devastating fungal disease that threatens food safety and security in the Americas and South Asia.
First officially identified in Brazil in 1984, the disease is widespread in South American wheat fields, affecting as much as 3 million hectares in the early 1990s.
In 2016, it crossed the Atlantic Ocean, and Bangladesh suffered a severe outbreak. Bangladesh released a blast-resistant wheat variety—developed with breeding lines from the International Maize and Wheat Improvement Center (CIMMYT)—in 2017, but the country and region remain extremely vulnerable.
The continued spread of blast in South Asia—where more than 100 million tons of wheat are consumed each year—could be devastating.
Researchers with the CIMMYT-led and USAID-supported Cereal Systems Initiative for South Asia (CSISA) and Climate Services for Resilient Development (CSRD) projects partner with national researchers and meteorological agencies on ways to work towards solutions to mitigate the threat of wheat blast and increase the resilience of smallholder farmers in the region. These include agronomic methods and early warning systems so farmers can prepare for and reduce the impact of wheat blast.
This series of infographics shows how wheat blast spreads, its potential effect on wheat production in South Asia and ways farmers can manage it.
CIMMYT and its partners work to mitigate wheat blast through projects supported by U.S. Agency for International Development (USAID), the Bill and Melinda Gates Foundation, the Australian Centre for International Agricultural Research (ACIAR), Indian Council for Agricultural Research (ICAR), CGIAR Research Program on WHEAT, and the CGIAR Platform on Big Data. 
See more on wheat blast here: https://www.cimmyt.org/wheat-blast/
Tags: Bangladesh, infographics, Wheat Blast