Sharing Lessons on Sustainable Intensification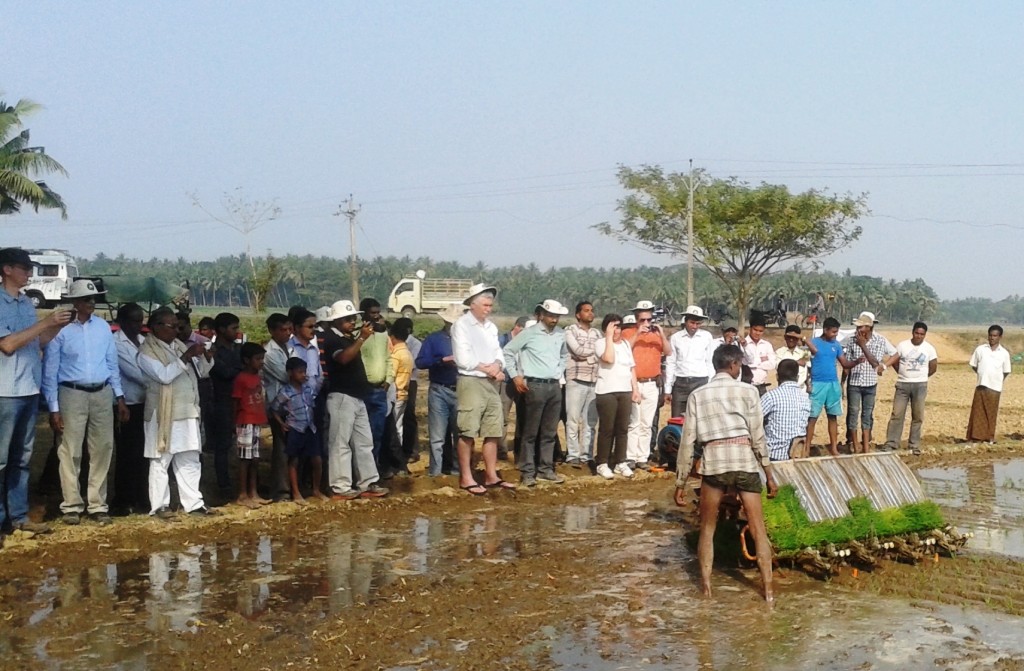 The Cereal Systems Initiative for South Asia (CSISA) organized a cross-learning tour on sustainable intensification (SI) for a multi-institutional group of 13 representatives from USAID, Bill & Melinda Gates Foundation, Africa RISING, USAID's Sustainable Intensification Innovation Lab and the Innovation Lab for Small-scale Irrigation to share perspectives on SI in African and South Asian contexts from 28 January to 4 February.
Sustainable intensification of mixed crop-livestock systems is key to achieving better food security and improved livelihoods while minimizing negative impacts on the environment. The tour was designed to enable knowledge sharing among the flagship SI investments of USAID.
The group started with a full-day event in Delhi to discuss ways to build a global community of practice for SI, followed by a week-long tour of CSISA sites in Bihar and Odisha. "This cross-learning trip helped to showcase how we've built the CSISA program in South Asia so that lessons and insights with global resonance can be shared with other initiatives," said Andy McDonald, Project Leader, CSISA.
Developing a global 'community of practice' for sustainable intensification (SI) and the need to define indicators for measuring SI activities were highlighted by the participants at the cross-learning SI event. The workshop looked at the approaches taken by the SI projects of CSISA and Africa RISING, collaborative research opportunities by the Sustainable Intensification Innovation Lab and the Innovation Lab for Small-scale Irrigation and the perspectives of the donors that fund SI projects.
"We need broad systems programs to make impacts truly happen," said Thomas Lumpkin, Director General, CIMMYT, talking about CSISA's cropping systems approach at the start of the event. He added, "We should get more value chains involved and need to look at regional and global levels to extract maximum value from our R4D projects."
The field tour helped the team from Africa RISING to understand the commonalities as well as diverging points between CSISA and Africa RISING activities. "It was very promising to see that some of the mechanization components and technologies CSISA is promoting in South Asia may be adaptable to some contexts in Southern African countries where Africa RISING is working. Certainly a fruitful and much-needed learning experience," said Carlo Azzarri, Research Fellow, IFPRI-Africa RISING.
The Africa RISING team saw the use of affordable and feasible mechanization options for smallholder farm activities in CSISA, which can be introduced in Africa, such as the use of two-wheel tractors for line sowing and fertilizer application, fodder choppers and axial flow pumps.
Talking about CSISA's model of supporting service providers for the dissemination of different technologies, P.V. Vara Prasad, Director, Sustainable Intensification Innovation Lab, said, "The model of using service providers and government organization to reach out to larger communities of farmers was novel and seems to be working well."
Neville Clarke, Director, Innovation Lab for Small-scale Irrigation, highlighted that the active approach to engage women farmers and the value chain approach being used by CSISA provides some overarching examples of how the Innovation Lab might better address their programs in small-scale irrigation.
"It was extremely informative to join our colleagues from Africa RISING and USAID to better understand the approaches they are taking and the common issues and differences not only between the project approaches but also in the differences in the needs of farmers in South Asia and Africa. BMGF focuses its agricultural development work in these two geographical areas and the chance to contrast and compare was very valuable," said Tony Cavalieri, Senior Program Officer, Agricultural Development, the Bill & Melinda Gates Foundation.
Related Stories
Tags: agricultural innovation, cross-learning on sustainable intensification, smallholders, Sustainable Intensification, sustainable intensification in Asia