CSISA Expands Domain of Registered Maize Hybrids in Nepal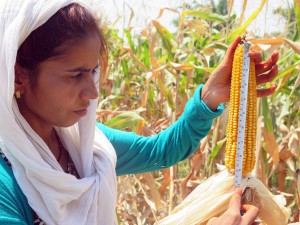 CSISA is collaborating with national partners in Nepal to support the domain expansion of registered maize hybrids, helping increase maize productivity in the country.
Maize is the second most important food crop in Nepal, after rice. It contributes approximately 25 percent of Nepal's food basket and occupies around 26 percent of the total cropped area. Maize productivity at 2.3 tons per hectare in Nepal is still quite low compared to the global average of 5.5 tons per hectare.
Growing demand from the poultry industry in Nepal cannot be met by the cultivation of open-pollinated seed varieties alone. As a result, higher-yielding hybrids have become increasingly popular among farmers because of their productivity, quality and profitability. However, most maize hybrids are only approved for sale and cultivation in the central and eastern Terai, east of the Narayani River. Farmers in many areas, especially in western Nepal, sometimes purchase non-approved hybrid seeds to meet market demand. These hybrid seeds are not registered at the Seed Quality Control Centre and are traded through informal channels.
With a potential risk of penalty from the government for violating the seed policy, traders have not distributed many high-performing hybrids, thereby restricting their local production, fair distribution and widespread availability, which otherwise could benefit many farmers in Nepal. It is estimated that annually about 2,500 tons of hybrid maize is grown in Nepal, of which only 1,000 tons are registered hybrids.
Catalyzing Change
In 2014 and 2015, CSISA and the National Maize Research Program (NMRP) partnered to evaluate maize hybrids in six additional districts (Banke, Bardiya, Kailali, Kanchanpur, Surkhet and Dadeldhura) in western Nepal. Trials were conducted in the spring in the Terai and in the summer in the mid-hills and were monitored by a team of stakeholders from NMRP. The performance data for variety release and registration was shared with the National Seed Board (NSB).
Of the ten hybrids that were evaluated, four (TX 369, Bioseed 9220, Rajkumar and Nutan) were found agronomically superior, producing more than 6 tons per hectare, and having a tight husk cover and providing moderate resistance to northern leaf blight and grey leaf spot. In response to the evaluation results, the NSB has approved and registered four hybrid varieties for sale in the western region.
Highlighting the need to increase farmers' access to registered hybrids, Dilaram Bhandari, member of NSB and Director, Crop Development Directorate, Department of Agriculture said, "We have to adopt this modality for other hybrids as well since new hybrids expand outside the recommendation domains quite frequently."
This article is authored by Narayan Prasad Khanal, Research Associate, CIMMYT.