Strike Turns Farmer into Dairy Feed Businessman
The seemingly sleepy village at the end of the road is not so sleepy after all. Guagadia village in Odisha produced an overnight entrepreneur, one who had never imagined he would ever do anything beyond feeding his dairy cattle, milking them and selling the milk to the local dairy board, Orissa State Cooperative Milk Producers' Federation (OMFED). But all that changed when workers of the OMFED feed supplier went on strike. Wondering "How am I going to feed my cows?" farmer Kishore Kumar adapted and rose to the occasion.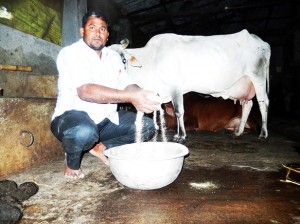 Driven by his desperation, Kumar reached out to the Cereal Systems Initiative for South Asia (CSISA) for help. To address the plight of the farmers, CSISA-ILRI organized a training workshop on concentrate feed in Bhubaneshwar. Four days later, Kumar was making his own concentrate feed and was self-sufficient.
The training program he attended entitled, 'Crop Residue-Based Feeding Strategies to Improve Milk Production of Dairy Animals,' covered feeding chopped rice straw supplementation with mineral mixture and self-preparation of concentrate feed. Participants were taught how to mix the balanced concentrate feed, how to chop straw and soak it to feed the cattle as well as entrepreneurship skills. The program reiterated the importance of using locally available materials – that can either be found on their own farms, purchased from neighbors or local markets.
In three months, Kumar emerged as an entrepreneur not only making feed for his own cattle but also selling the surplus to villagers that lacked the resources to do so themselves. His customers now span six neighboring villages. These fellow farmers have grown to appreciate the consistency of the feed Kumar supplies and have told him that they would be willing to pay even a higher amount but not to compromise on the feed quality.
Kumar is grateful for the support he received from CSISA and acknowledges the training program that gave him skills to last for a lifetime. From his increased earnings he has already bought sacks, a weighing machine and a sealing machine for the feed – to ensure he sells the right quantities and of the best quality. He even took a loan with a local financial institution for buying a tractor to carry the rice straw from the fields and the ingredients bought from local markets. He recognises he became a businessman out of necessity, but says he is committed to make the most of it and is working hard to grow his newfound business.