New initiatives for wheat crop discussed at UP 'Convergence Platform' meeting
Agricultural Technology Application Research Institute (ATARI), Kanpur, organized a "Convergence Platform" (CP) meeting at the Indian Institute of Sugarcane Research, Lucknow, on 7 November 2022. In the meeting, participants from ATARI, the Department of Agriculture (DOA), State Agricultural Universities (SAUs), the Livelihood mission of Uttar Pradesh (UP), and the private sector discussed the convergence of interests for extension activities. Most of the discussion focused on helping increase wheat productivity in the current season and providing feedback for researchers to review.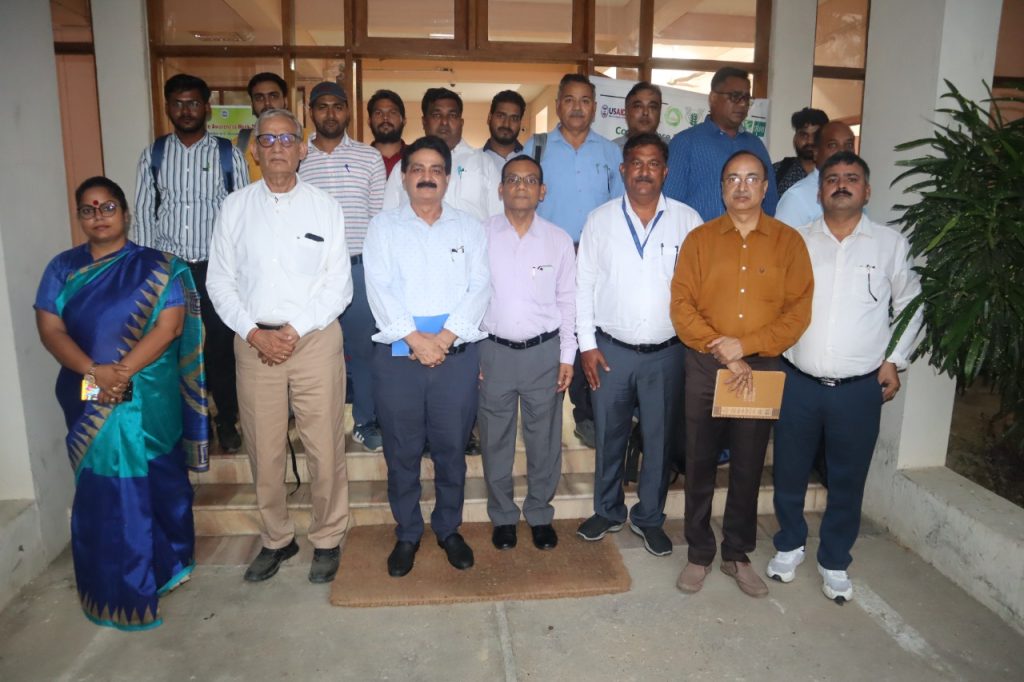 Dr. Vivek Kumar Singh, Director (Agri.), Govt. of Uttar Pradesh; Dr. T.P. Chaudhari, Additional Director (Plant Protection) Department of Agriculture, Govt. of Uttar Pradesh, Dr. Panwar, the Dean and Dr. SK Dubey, Nodal Scientist (CSISA), ATARI, Kanpur, and representatives from CSISA led by Dr. R.K Malik, KVKs, Bayer Crop Science, UP State Rural Livelihood Mission (UPSRLM) participated in the meeting. Some members of CSISA and KVK Heads joined the meeting virtually.
Dr. SK Dubey from ATARI Kanpur welcomed all the participants and briefed them about the purpose and outcome of the CSISA-KVK network, including the landscape diagnostic survey (LDS) data. The meeting was chaired by Dr. Vivek Kumar Singh, Director (Agriculture), Uttar Pradesh Government, as the Chief Guest. Briefing about research and evidence-based outcomes, Dr. R.K. Malik and Dr. S.K. Tomar emphasized the importance of early wheat sowing to combat terminal heat. And that timely sown wheat varieties (TSWVs) had the same or higher yield even under late sowings. The data, they said, also showed wheat grain yield under zero tillage technology (ZTT) to be more than rotavator-based seeding and that there is the benefit of synergy between ZTT and early wheat sowing. They expressed that the scope for further promotion of TSWVs in UP is substantial, as 82% of households in 24 districts of UP have already accepted them. They further suggested that most KVKs should take up such trials as part of assessment and validation at farmers' fields.
Avnish Awasthi from UPSRLM explained how they have been working with women farmers in Uttar Pradesh and supporting them in their livelihood efforts. Sughandha Munshi from CSISA shared the experiences and functioning of Bihar-CP with the support of BAU and JEEViKA and that such partnerships and activities in Eastern UP with SLRM will be fruitful.
Dr. Vivek Kumar suggested that the SAUs send the recommendations made at the meeting to the Department of Agriculture. The same will be incorporated in the Directorate book "Saghan Kheti Padhati" for the use by farmers of the state. He also advised that technologies discussed in this meeting should be popularized, and a meeting should be held with the UP Council of Agricultural Research (UPCAR) for necessary actions in the future. At the end of the session, there were a few crucial decisions about meetings at the state policy level and some immediate action by the KVKs.