Mahfuza Finds New Respect from Her Family and Community
Mahfuza transformed her underutilized homestead pond and dike into a productive and profitable farm. Now her husband and village community see her with new respect.
"I was never seen as an income earner; rather, I was thought to be a person who loves to look after her family, cook food and take care of livestock, which amounted to my prime responsibilities," says Mahfuza Rahman, a farmer from Akain village in Faridpur district, Bangladesh. "Now I feel proud of my success in aquaculture and vegetable production in my homestead and pond dike."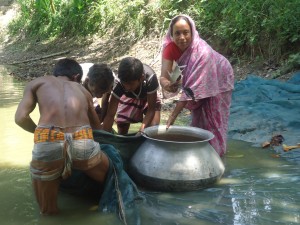 Mahfuza's story began when she met with WorldFish staff working in her village for the USAID funded CSISA in Bangladesh in 2012. The project was offering training on household based pond aquaculture and vegetable farming for homestead gardens and pond dikes. Knowing she had the resources within her reach, Mahfuza was interested  in the project training to help improve the productivity of the 15 decimal pond attached to her homestead.
Mahfuza's husband is involved in other agricultural activities and is a painter in the town. He accepted her desire to improve the productivity of their homestead pond, but with some scepticism. "My husband initially did not really trust my ability, but now he is very delighted in my efforts and outcomes," she explained. With his support, she registered with the CSISA-BD project and began attending training sessions with 24 women from her village.
During the training she learned new farming and pond management techniques including the importance of producing nutrient-rich foods, such as orange sweet potatoes and mola, a nutritious small fish. The women learned how to cultivate mola together with carp, and how to grow orange sweet potatoes with a wide range of other vegetables along the banks of their ponds.
After applying these new technologies for 10 months, with the help of her husband (who mainly supported her with finance, input access and marketing), Mahfuza produced 223 kilograms (kg) of carp and 26 kg of mola. The yield was enough to both feed her family of five and fetch BDT 15,700 (USD 204) in sales at the local market.
"I never generated more than 165kg of fish from this pond for the last five years, but she almost doubled the production within a year," said Mahfuza's husband, Ershadur Rahman. "In the past, we had to consume fish irregularly – no more than – once a week, and that too was mainly bought from the local market. However, this year, raising mola facilitated frequent consumption from our own pond," he adds.
Mahfuza's involvement in a non-traditional job outside of her role as a housewife helped to boost her confidence and her husband's belief in her.
"Despite my impressive success, my husband wouldn't allow me to join a workshop alone in the district and accompanied me," explains Mahfuza. "However, when I explained my experience with full proficiency to an audience of about 150 at a farmers' field day, he was very impressed. Since then, he never insists on accompanying me to any meetings or workshops," she said.
Mahfuza's success has been recognized throughout the community, and many people, especially women, often come to her and request her support.
Story by: Rupan Kumar Basak, Md. Ershadul Islam and Afrina Choudhury
Watch Video: Fish for food, food for fish
Tags: CSISA-BD, mola fish, pond management, woman farmer, woman fish farmer, WorldFish