Interstate Exposure visit to Andhra Pradesh under the DSR-Odisha project
A five-day "Interstate Exposure Visit of Lead Farmers & Potential Service Providers (SPs) from Odisha" was organized from 3-7 August 2022 under the IRRI-GoO-DSR-Odisha Project. This Direct Seeded Rice (DSR) project by the International Rice Research Institute (IRRI-CSISA) with support from the Govt. of Odisha and implemented in close association with the Department of Agriculture and Farmers Empowerment (DAFE), Govt. Odisha aims to expand the practice of DSR to improve and optimize rice production practices in the state. A total of 25 participants (representing three lead farmers and two DSR- Service Providers (SPs) each) from Bargarh, Ganjam, Kalahandi, Mayurbhanj, and Puri districts of Odisha attended the exposure visit organized in the Bapatla district of Andhra Pradesh (AP).

The main objective of this event was to provide farmers exposure to scaling pathways on 'Mechanized DSR' at a landscape level. Farmers witnessed more than 2200-2400 ha cluster demonstrations at different sites in the Bapatla district. Also, during the five-day visit, a step-wise live demonstration on pre-seeding herbicides, field preparation for Dry-DSR, soil mulching, basal phosphatic fertilizer application, drill seeding followed by planking, including spray of pre-emergence herbicides, and mechanical weeding was conducted. Many of these field and site visits were facilitated by Praanadhaara (Praanadhaara Organized Agro-forestry Private Ltd), an NGO based in Andhra Pradesh. Praanadhaara has been extensively working on mechanized rice farming services and has been the primary catalyst for the widespread adoption of mechanized DSR in these regions for more than ten years. It is worth mentioning here that during Kharif 2022, the area under mechanized dry-DSR is more than 20000 ha in Bapatla and Guntur districts of AP, which reflects extraordinary progress and immense refinements in the DSR technology over the years.
Agronomist K. Pundarikashudu, Director and Coordinator for the DSR Mechanization Initiatives at Praanadhaara, informed the visiting group that his team is working on standardizing all mechanized field operations of DSR. The visiting group was invited to Praanadhaara workshops, facilities, services, implements/equipment, and interaction with their team on the ground by Mr. Pundarikashudu. He expressed his happiness and gratitude for IRRI-CSISA's encouraging initiatives to organize the exposure visit of Odisha farmers to Bapatla and the adjoining Guntur district.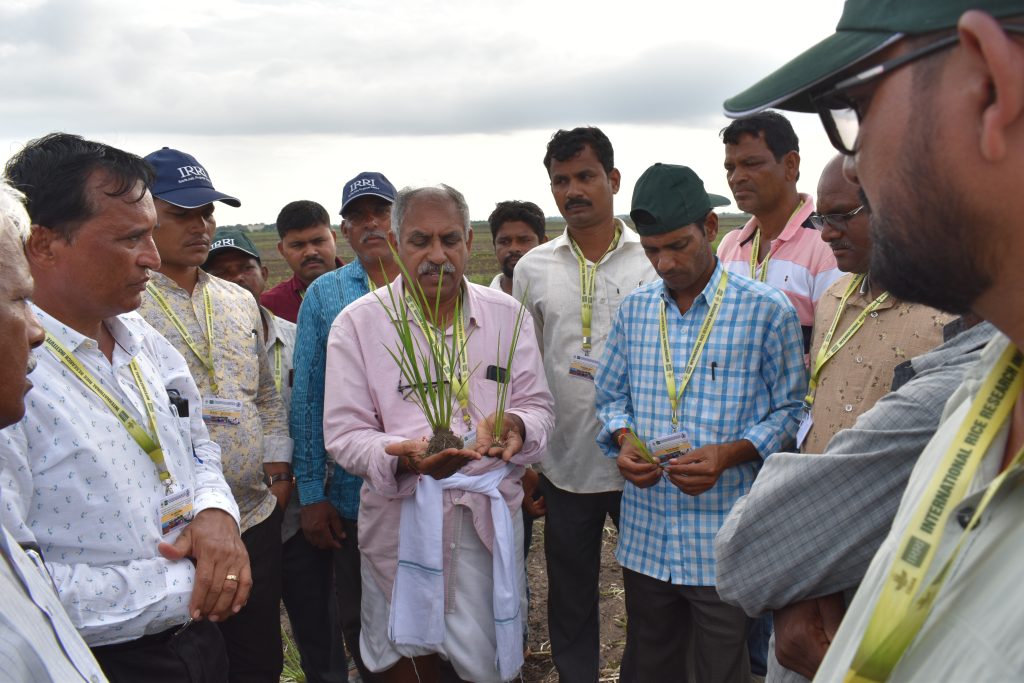 On 5th August, the group also saw farm machinery and implements in the College of Agricultural Engineering (Acharya N.G. Ranga Agricultural University) village lab of Bapatla district, AP. A live demonstration on wet DSR on 25 acres at village Nidubrolu in the Guntur district followed. An interaction between Odisha and AP farmers at the house of Acharya N. G. Ranga in village Nidubrolu was also organized to understand best practices from one another. Around 60 (first day) & 80 (second day) champion farmers and other stakeholders participated in the interactions on both days. Appa Rao, Vijay, Suresh, Shantnu Mohapatra, Sworup Behura, Sanjay, and Jai Sridhar facilitated the exposure travel with the Indian Institute of Rice Research and IRRI teams.