Improved Feeding for Better Dairy Production
CSISA's partner, the International Livestock Research Institute (ILRI), recently conducted training programs on dairy cattle feeding management in the Indian states of Odisha and Bihar. The trainings focused on improving the nutritional benefits of crop residues and demonstrated the benefits of new feeding strategies for improving the milk productivity of dairy cattle.
Through its work in CSISA, ILRI collaborates with partners to enhance the livelihood of farmers by improving crop-residue-based livestock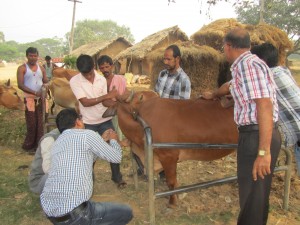 feeding.   In collaboration with partners that include local public research institutes, NGOs and other organizations, they disseminate knowledge on livestock feeding, health, nutritional requirements and nutritional content of different crop residues. Collectively ILRI aims to enhance dairy production by addressing nutritional issues, increasing efficiency in utilizing crop residues and strategic feed supplementation.
CSISA's trainings of dairy farmers demonstrated the efficient preparation of balanced compounded concentrates using locally available feed ingredients and generated awareness about the nutritional requirements of lactating cattle, proper implementation of dairy cattle nutrition programs, nutritive values of local feed ingredients and the importance of balanced ration feeding for increasing milk yield.
Farmers Adopt Balanced Feed
After CSISA's training programs in Odisha, experimental trials of fodder chopping and then adding a mineral mixture (a supplement to provide balanced nutrition to the cattle) was introduced to 100 dairy farmers in five villages of Puri district. The milk yield increased from 200 to 500 gram per day per cow with chopped straw feeding; farmers were also able to save four bundles of straw each day. In the case of mineral mixtures, milk yield improved from 300 to 700 grams per day per animal. ILRI is now focusing on scaling out these practices to Mayurbhanj and Bhadrak districts in Odisha. Partners include Odisha University of Agriculture and Technology, Odisha State Cooperative Milk Producers' Federation Limited and Lutheran World Service India Trust.
In Bihar, ILRI has introduced balanced compounded concentrate feeding to dairy animals in Samastipur and Muzaffarpur districts in partnership with the self-help groups, farmer clubs and milk collection centers. The dairy farmers who have adopted improved balanced feeding have reported increased feed intake, resulting in better cattle health and reproduction performance.  A lower incidence of ticks/ectoparasites in dairy animals has also been observed.
Watch video on Benefits of Chopped Straw as Fodder in Dairy Management (in Oriya)