CROP DIAGNOSTIC SURVEY UNDER RURAL AGRICULTURAL WORK EXPERIENCE (RAWE)
Cereal Systems Initiative for South Asia project has initiated a capacity development program for final year students of B.Sc. (Agriculture) of Chaudhary Charan Singh Haryana Agricultural University (CCSHAU).
The vision for this initiative is to establish crop diagnostic surveys under Rural Agricultural Work Experience (RAWE) as part of the course curriculum for final-year graduation students. Under this, students will begin implementing data collection on agricultural practices following CSISA's landscape diagnostic survey (LDS) process.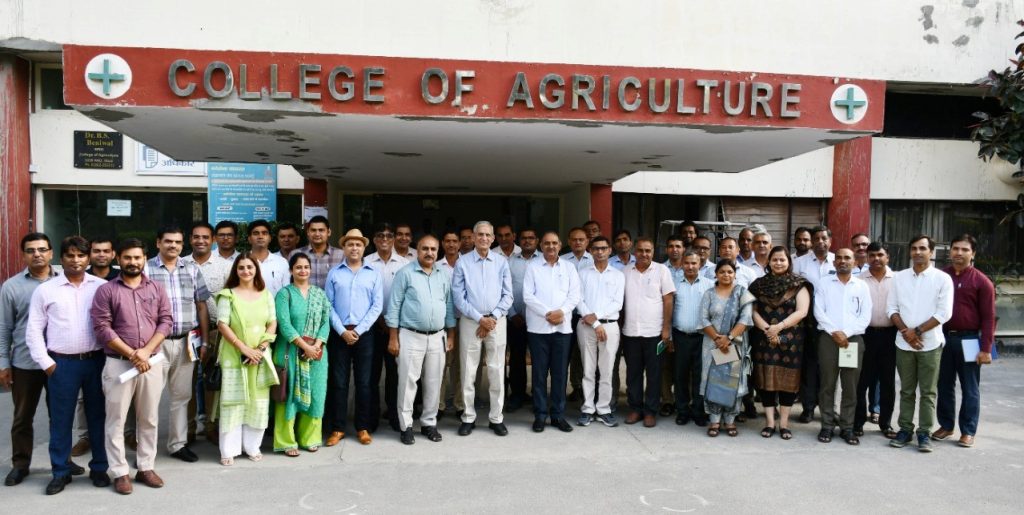 In executing the LDS process under RAWE, training-of-trainers (TOT) was organized for participating faculties from the department of Agronomy, Agricultural Economics, and Agricultural Extension on 25-26 August 2022, at CCSHAU, Haryana. This event aimed to train associated faculties on sampling methodology and digital data collection tools and to finalize survey questions.
In the second part of this capacity-building program, students will be trained by these faculties jointly with the concerned CSISA team. It will help students to learn survey skills and take up research and extension opportunities in the future.
Commenting on the collaboration, the CCSHAU Vice-Chancellor, Dr. BR Kamboj, said that the university is pleased to partner with CSISA and One CG in its capacity-building activities. He emphasized the importance of generating quality and quantity data, saying, "often focus is only on gathering quantitative data." He also discussed the significance of data management and how it can help students to understand the adoption process of technologies during their mandate activity of the RAWE program. Dean, College of Agriculture, Dr. SK Pahuja, said that the initiative under RAWE will help students with a practical understanding of how their classroom learning is implemented and accepted in the field by farmers. CSISA team members shared their expertise on the Open Data Kit (ODK) digital data collection and survey design system.
Leading the CSISA team, Dr. RK Malik said that this capacity-building program aims to teach students how farmers are adopting new technologies. He also stressed the importance of preparing them for a host of new initiatives on digitization in agriculture – part of a capacity-building activity within the national system.
The CSISA team helped faculty members from the campus and coordinators from participating KVKs, and Principals of the College of Agriculture from Kaul and Bawal understand this activity's implementation. The roles and responsibilities of all implementors were also discussed and finalized.