Aquaculture brings benefits to resource poor women in Bangladesh
The Koattakha River runs through the small village of Paspota, in the Jessore district, supporting around 50 households along its banks. The general livelihood activities of men in the village are fishing, agricultural day labor, and small-scale business, while women are mainly housewives and occasionally keep livestock.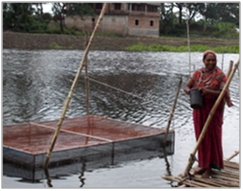 However, a group of resource poor women: Shantona, Romesa, Feroza Begum, and Shika Rani, are using the river to their advantage, farming fish in nylon cages along its shore. These women began their aquaculture venture after receiving in-depth training in aquaculture practices in 2012 by CSISA-BD, Jessore Hub staff. After the training, these women were able to make one nylon cage each, stocking it with tilapia. Their first farming cycle was cut short due to poor river water quality forcing them to harvest their tilapia early. After selling the fish, three of the women constructed two more low-cost cages from the profit, and stocked them with Thai Koi and Thai Pangus fry, which are less sensitive to water quality. One and a half months later, they were able to sell all the fingerlings. Now with nine cages between them, these four women have stocked mono sex tilapia, which they hope will boost their productivity and income. They received financial assistance from the Jagarani Chakra Foundation and technical support from CSISA-BD staff in Jessore. In addition, they have been linked with market actors (i.e., nylon net sellers, feed dealers, and fish traders). After seeing the success of Shantona, Romasa, Feroja, and Shika, another five female households are preparing their own aquaculture cages. The four women expect many more in their community to follow their footsteps.