USAID and BMGF Team Meet CSISA's Women Farmers' Group, 'Kisan Sakhi'
A group of 345 women farmers actively participated in an interaction session jointly organized by CSISA and its partner agency in Bihar, the Jyoti Mahila Samakhya federation (under the aegis of Bihar Mahila Samakhya, Indian government's programme on women's equality) on 1 April in Muzaffarpur district, Bihar.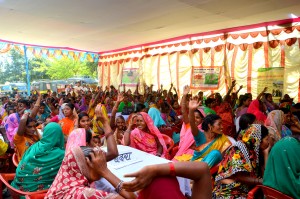 The event provided an opportunity to the visiting teams from the U.S. Agency for International Development (USAID) and the Bill & Melinda Gates Foundation (BMGF) to interact with the women farmers' group and to understand how CSISA is helping them with improved climate resilient and sustainable agricultural practices. The delegation was composed of Bahiru Duguma and Srivalli Krishnan from USAID India and Hari Menon and Brantley Browning from BMGF. Bihar Mahila Samakhya's state and district level officials and members of the CSISA Bihar Hub also participated in the discussions. Kisan Sakhi, meaning "a woman farmer friend," is an initiative jointly started by CSISA and the Bihar Mahila Samakhya that aims to disseminate new farming technologies and practices to help empower women farmers in Bihar. Six blocks have been identified–Bochaha, Bandra, Aurai, Gai Ghat, Musahri and Kudhni—in the district Muzaffarpur for the pilot work. At the meeting, the women farmers talked enthusiastically about the need to scale out new technologies among women farmers. "Imparting knowledge and skill is more important than providing short-term monetary support from a project," a group member said. Contrary to a common perception that women in agriculture are not empowered decision-makers, about 15 percent of the group members identified themselves as land owners and said that they're are involved in decision making in terms of taking land on rent and carrying out farming operations to sustain their livelihoods. After highlighting that manual rice transplanting can cause health problems like backache, skin infections and fatigue, many women in the group showed a keen interest in machine transplanting. Most of the women farmers also said that they were worried about the high cost of cultivation and added that zero tillage technology is helping them to reduce cultivation costs. CSISA has introduced to the Kisan Sakhi members new technologies like improved weed management, intercropping in maize, intensification of cropping systems with summer green gram, machine transplanting of rice under non-puddled conditions and management of community nurseries. CSISA also aims to support champion women farmer entrepreneurs, who could deliver custom hire services for community nurseries and machine transplanting. Women members expressed appreciation for the CSISA training on safety measures for spraying pesticides as they had not followed any protective measures in the past. The women farmers who had earlier participated in CSISA's training on weed management said that they were able to arrest the losses caused by weeds with the help of improved weed management. They also reported encouraging results from zero tillage and intercropping of maize with potato or peas.