On International Women's Day, IRRI Director General Felicitates Women Farmers in Odisha
Sabitri Naik and Kainta Biswal had yet another reason to celebrate their joy on this Women's day. They were felicitated by the Director General of International Rice Research Institute (IRRI) at a farmers' event, for their contribution to the local community in adoption of new rice cultivation technology.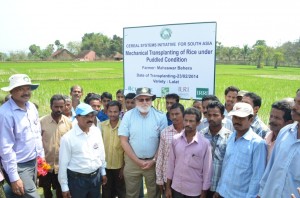 Sabitri and Kainta are tribal women farmers of Mayurbhanj district in Odisha and have shown remarkable courage and effort to gain expertise in modern agricultural technology in the male dominated farming community in India. The event was organized in the tribal village Champapal and was attended by Director General IRRI, Robert S Zeigler and many senior scientists of IRRI, CSISA and STRASA projects — Ismail Abdelbagi, Programme leader STRASA, J.K Ladha, IRRI Representative, India; U.S Singh, Coordinator, South Asia, STRASA; Manzoor Hussain Dar, Senior Associate scientist, STRASA and C.M Khanda, Hub Manager, CSISA Odisha. Around 200 women farmers and other farmers from Champapal and other villages of Kaptipada block participated in the event. Chmpapala village has witnessed a successful community adoption of improved agricultural technologies such as mechanical transplanting of paddy under puddled and non-puddled condition. The women farmers of the village contributed towards adoption and sustenance of improved technology like mat type nursery bed preparation of rice. Speaking at the event, Director General Zeigler emphasized the role of women in all the aspects of society, especially as a woman farmer. He encouraged women to actively participate in farming not only as a mere labourer but also in the decision making processes involved in farming, which will lead to bringing economic benefits and empowerment for women.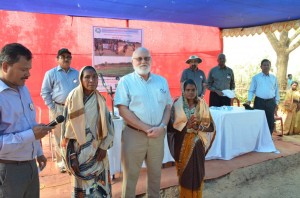 The meeting also involved exhibition of various women-friendly tools and equipments that can be used easily by women in their farms to increase the efficiency and reduce the physical drudgery involved in manual operations. The huge turnout of the women members from the local community showed the interest and huge potential among the tribal women farmers to learn and adopt various improved farming technologies.