Youth Finds New Hope as Service Provider of Mechanical Rice Transplanting
CSISA's training and support on mechanical transplanting of rice brings income-earning opportunity to youth as service provider in Hotaput village, Mayurbhanj.
Not so long ago, Nihar Ranjan Dutta, 26 years, was an unemployed science graduate in Hotapur village in Mayurbhanj district. Today, after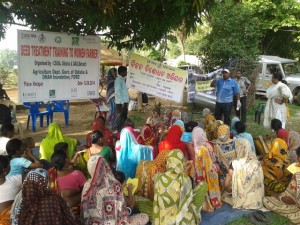 getting trained on mechanical rice transplanting of rice and mat-nursery preparation, he has become a service provider. He hopes to successfully provide mechanical rice transplanting services to farmers and women self-help groups (SHG) in his village and earn a good income.
On 9th May 2014, Nihar attended a field day cum training on "Mechanise Rice Transplanting" at Badjod village organized by CSISA, where he met other service providers who shared their success stories about how they had done mechanical transplanting with 120 farmers in 50ha with adoption of dry nursery promoted by CSISA. "After listening to their stories, I was inspired and motivated to buy a machine transplanter in the coming Kharif season," said Nihar. Thereafter he also attended a Training of Trainers (TOT) meeting organized by CSISA and DHAN Foundation.
Simultaneously, women SHG members of Hotapur village, who also attended the field day at Bajjod, showed interest to develop community mat nursery and sell them to service providers as a profit-making and livelihood activity. After the training, 60 farmers from Hotapur showed enthusiasm to adopt MTR in this Kharif season, covering almost 40ha area. "Considering they had never heard of the MTR technique earlier, it was encouraging to see that they came forward and were ready to experiment," said Naba Kishore Parida, Agriculture Specialist, CSISA. The women farmers were further trained on seed selection and seed treatment by the CSISA team on 12th June.
On 4th July, CSISA in collaboration with Department of Agriculture (DOA), Government of Odisha and DHAN Foundation organized a practical training on "Community mat nursery preparation" at Hotapur. It was attended by 60 participants, including service providers, women and male farmers, government officials and NGO staff.
Umesh Das, District Agriculture Officer, Bijay Pattanaik, Agronomist, Tapas Bala, Agriculture Officer of Betnoti Block and Pradeep Bhanja, Village Agriculture Worker of Santara Gram panchayat represented DOA at the training and learned about the mat nursery preparation under both dry and wet condition. "After realising the ease of preparation, the district agriculture officer gave assurance that he will advise all the service providers of all four blocks to develop this type of nursery in this Kharif season. This is a good outcome," said Naba.