Creating impact through wider data sharing, a training by CSISA in Bihar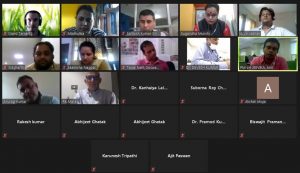 A six-day virtual interactive training for convergence members on the theme 'creating impact through wider data sharing' was hosted by CSISA in association with CAB-International and ODI in September (16-23 September). The thematic areas of the training aimed at strengthening technical expertise of the participants; creating an enabling environment to unlock the benefits of data sharing and developing space for participants to discuss, brainstorm and co-design initiatives to be implemented together by the convergence platform members in coming days.
23 participants attended the training from Bihar Agriculture University, Jeevika, Dr Rajendra Prasad Central Agriculture University, ICAR-RCER, Agriculture Technology Application Resource Institute and IFFCO.
Dr David Torrent from Open Data Institute led the training, with Arun Jadhav from CABI and CSISA team coordinating the training proceedings.
Copy and paste this URL into your WordPress site to embed
Copy and paste this code into your site to embed