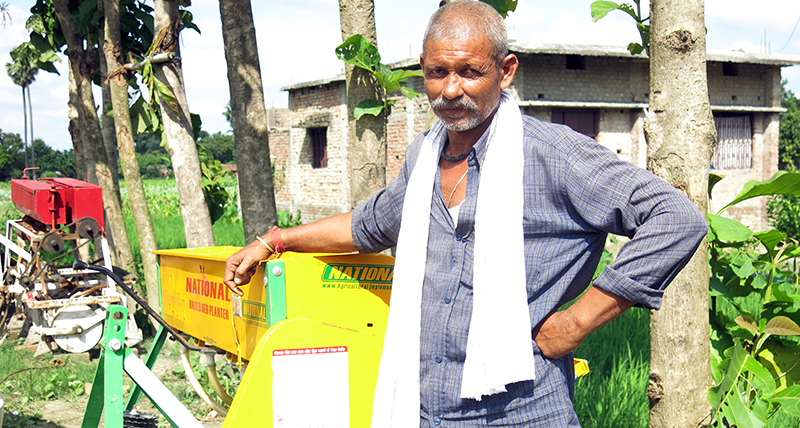 Barsaprasad Hembram, a maize farmer from Mayurbhanj district, Odisha, purchased a variety of modern farm machines this year by participating in a government scheme that gives farmers a 50 percent subsidy on tractors and seven auxiliary implements such as the seed drill. Today, Hembram uses his new farm equipment to provide agricultural custom-hire services to other like-minded farmers, charging $14.35 (Rs. 910) per hour for the tiller and $15.78 (Rs. 1,000) per hour for the Mould Board plow.
Not only does this service give Hembram additional income, it helps other smaller farmers who can't afford to buy machines to reap the benefits of modern farming technologies. Hembram says, "Word got around about the success of my maize crop and more and more people became interested in using technologies such as the seed drill. Availability of labor is a huge challenge for all the farmers here so naturally they're interested. I already have requests from five farmers to help with their fields next year."
Hembram is a CSISA-supported service provider — or 'change agent intermediary.' By offering custom-hire agricultural machinery at relatively affordable rates, these service providers are bringing the benefits of modern agricultural mechanization even to the smallest farmers – in addition to serving as an important source of information on better-bet agronomic management. CSISA supports a network of more than 1,700 mechanized service providers across India.
Expanding Mechanization
With an increasing agricultural labor shortage in India, shifting to mechanical power seems like a logical response. Not only does mechanization support the optimal utilization of resources (e.g., land, labor, water) and expensive farm inputs, it also helps farmers save valuable time in completing a variety of operations. The judicious use of time, labor and resources can help facilitate sustainable intensification (e.g., multi-cropping) and the timely of planting of crops, which can give crops more time to mature and increase productivity. The use of scale-appropriate machinery can also help reduce drudgery.
The shortage of labor in Mayurbhanj is a challenge that farmer Sajit Kumar Mohanty is familiar with as well. He shares, "Most of the local labor is employed by brick kilns, making it nearly impossible for me to find the 20–30 people it would take to manually uproot and transplant rice seedlings for my field. Thanks to the machine transplanter, I can now manage the same task with just four people." Farmer and service provider Kishore Kinkar Padiari says that in Bhadrak, Odisha, "Not only is labor expensive and hard to find, there is also no assurance that they will come exactly when you need them to, which can be of critical importance with the changing climate and shifting planting windows.". Thanks to Padiari's custom hire services farmers in his village now manage to plant more than 1 acre per day (0.40 hectare) with just three people using the machine transplanter for rice instead of the 20 people they previously needed at a cost of $3.47 (Rs. 220) per person. "Using this technology farmers also save nearly 10–15 kg seed per acre."
Benefits for Smallholders
India has a large number of smallholder farmers who have landholdings of less than 2 hectares. The role of change agent intermediaries like Hembram and Padiari becomes even more significant in eastern India, where the average landholding size is decreasing and the procurement of machines individual farmers is often not economically feasible.
From this year, Padiari has also started renting out his laser land leveler and has already received requests to service more than 30 hectares. Sharing insights on the business of service provision, he adds, "I'm only charging Rs. 400–600 ($6.30–9.50) initially to build demand and in some cases I've only asked for the cost of the diesel. A lot of the farmers don't know about these technologies so they are apprehensive in the beginning. But when they see results they'll come back and even be willing to pay more."
For technologies such as zero tillage (ZT), service providers provide crop establishment services to more than 20 households each — a core example of CSISA's strategy for achieving sustainable intensification at scale through change agent intermediaries. Across Bihar and eastern Uttar Pradesh, over 50,000 hectares of ZT wheat were sown by CSISA-supported service providers in 2013–14, reflecting an area increase of 42% over the previous year.
But the business of service provision is not for everyone, warns Vijay Kumar Singh from Vaishali, Bihar. "Most people with tractors don't want to buy ZT machines because they can only make money from it once per field. The plow in comparison will be needed at least five to six times. I only bought the ZT machine because I have enough land of my own to use it on and not because I was dependent on using it as a source of income," he explains. And perhaps rice farmer Tushar Ranjan Biswal from Bhadrak would agree.
Biswal approached CSISA to learn about technologies that could help him cultivate his 8.09 hectares of hereditary land that were lying fallow. "I'm ambitious and wanted to earn some money. I was told about the option of becoming a service provider and earning an extra income by renting out my machines to other farmers in the area. But I realized that I could make much more money by simply leasing their farms instead and am hence now cultivating a total area of nearly 80 acres (32.37 hectares)." Biswal does, however, invite farmers from neighboring villages to showcase the benefits of using more modern agricultural practices. He admits, "If it wasn't for this technology, I could never have cultivated such a large piece of land."
Another challenge according to Parmanand Pandey from Samastipur, Bihar is that parts for machines aren't always readily available, which means that if a machine needs to be repaired, it will become unavailable for that entire cropping season. But why, then, did he become a service provider with the zero tillage machine for wheat, bed planter for maize and machine transplanter for rice? "You cannot always think in terms of cost and profit. Mechanization is also about risk mitigation. With a single machine I can cover 35 acres (14.16 hectares) while with a plow I cannot. More and more people are realizing this every year and so every year my business is increasing."