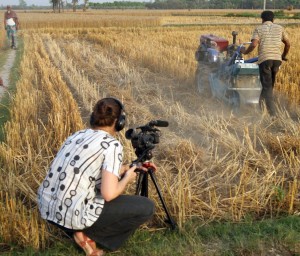 A collaborative video project aimed at raising farmers' awareness of small-scale agricultural machinery, water, time, and labor saving crop management practices in South Asia has won the bronze prize in the Event and Visual Communication Association (EVCOM) 2016 Award for Communication Effectiveness at an event in London on April 28.
The EVCOM Screen Awards are among the most prestigious competitions in corporate film and visual communications. The award was jointly accepted by Agro-Insight, the Bangladesh Agricultural Research Institute (BARI), Agricultural Advisory Society (AAS), and the International Maize and Wheat Improvement Center (CIMMYT).
Paul Van Mele, director of Agro-Insight, praised the partnership between agricultural research organizations BARI and CIMMYT, video production company Agro-Insight and video distribution partner AAS.
"The EVCOM Award for Communication Effectiveness celebrates a unique partnership model whereby quality training videos far exceeded the impact that agricultural development projects usually have," he said.
Greater Extension for Impact
"In population-dense South Asia, the sheer number of farmers makes it difficult to expand reach to raise awareness in rural areas," said CIMMYT systems agronomist Tim Krupnik.  "Video is a great medium for extension if you want to make awareness spread like wildfire."
Based on the film "Save more, grow more, earn more," produced in 2012 through the Bill and Melinda Gates Foundation– and the U.S. Agency for International Development-funded Cereal Systems Initiative for South Asia (CSISA), which also featured some field sites shown from ACIAR and U.S. Department of Agriculture–Cornell University funded partner projects, a suite of videos was translated into eight languages for farmers in Bangladesh, China, India, Iran and Nepal.
Harun-Ar Rashid, executive director of AAS commented that "our achievement was enormous." Between 2012 and 2014, AAS and CIMMYT jointly organized 482 screenings for over 110,000 farmers in 482 villages in Bangladesh.
Israil Hossain, a leading agricultural engineer at BARI, commented that "now farmers are inspired, seeing the advantages for crop production, and use of machinery is increasing."
Internationally, 1,500 DVD copies were distributed to farmer leaders and others such as two-wheel tractor operators, agricultural equipment and input dealers, community-based organizations, government services centers, NGOs and even tea stalls with televisions. Fifty eight million television viewers were reported in Bangladesh and over 100 million in India.
"The videos increased farmers' awareness of the products of BARI's research, which is a huge success," explained Md. Rafiqul Islam Mondal, director general of BARI.
In order to meet food demands in South Asia by 2050, production of the major cereals rice, wheat and maize must each increase by about 1.1, 1.7 and 2.9 percent every year. However, cereal productivity gains in the region have slowed markedly, while resource degradation, declining labor availability, and climate change pose steep challenges to the sustainable intensification of cereal-based systems for improved food security and rural livelihoods.